I returned to Normandy to take in the events for the 60th anniversary of the Allied invasion of mainland Europe. I was there to retrace some of my dads footsteps and perhaps meet some of his old surviving comrades. A few years ago I finally went through the trunk that held the things that my dad had kept mostly hidden for decades. Sure I had surreptiously rumaged through them as a kid. But I did not know much of their significance. And I knew virtually nothing about my dads experiences during the war. I had heard bits and pieces of story but these also were not fully appreciated by a kid. Later I would learn of the true horrors that he witnessed.
My dad rarely talked about war, but he always emphasized that war was hell. But I did not know what he meant at that time. Hollywood still showed war as a game. Much like the American TV shows the Iraqi war today....although today it is more like a video game. But recently I have read some personal accounts of those days and have begun to understand his meaning of hell. And I finally appreciate his own internal hell that he suffered through for almost 30 years afterward. I have also become aware that he was not alone in his PTSD, his alcoholism, his stays in VA psychiatric wards (including electric shock and insulin shock treatments), and his violent rages.
One can understand the transformation of the attitudes about war by watching first "The Longest Day" and then "Saving private Ryan". The difference is startling. I saw them both in the theater and the other difference for me was viewing the former as a little naive kid and the latter as an adult who had begun reading about the true war experiences. There is a good
discussion
of these film differences by Stephen Ambrose.
"The Longest Day" is one of two films that I went to the theater with my dad. The other being "Moby Dick" starring Gregory Peck. I was so young at the time I barely remember the film. I only remember one scene...the scene where Red Buttons, playing the role of Pvt. Steele, has his parachute snagged on the steeple of Ste. Mere Eglise. What I did not remember, but have now picked up from seeing the video several times as an adult, is that interspersed with his church landing, are scenes of paratroopers being machined gunned as they float into the square or just as they land. I am sure this was the trigger for what I remember most about that day in the theater long ago with my dad, sister and mom. As Red Buttons slowly floated down, my dad began to fidget...no shake....shake very badly....think of the scene in "Ryan's Daughter" where the village idiot(John Mills) induces the British Lieutenant WWI vet's shell shock....I had never seen this before, it was really wierd to a young kid. Soon, Dad got up and left the theater. My mom quickly followed him. In a few moments she returned and said we had to leave as Dad was not feeling well. When we got to the theater lobby, I saw my father pacing back and forth like a tiger in the zoo. He did not seem aware of anything around him. My mom grabbed his arm and we quickly exited. I do not recall anything about the ride home or afterward but that incident is seared into my memory so well I can see it, hear it, smell it and feel it like it was yesterday. I also learned later that my Dad told my uncle Tom that when he landed in Normandy, his comrades were being shot out of the sky. Of the 15 men who jumped from his plane that night only he and his platoon sergeant survived to return to England.
These are the demons that I returned to Normandy to try to understand and hopefully put to rest. And to help remember my father in a more honorable way.
Here is St Mere Eglise on June 5, 2004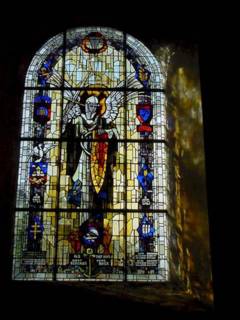 Ste Mere Eglise

This peaceful scene was a murderous flooded swamp where many men of the 508th Parachute Infantry met there watery or bloody death 60 years ago.
This small bridge at the Village of Chef Du Pont had dead American paratroopers and German defenders "stacked up like cordword for 100's of yards on either side" as one old vet sadly reminisced.
Le Merderet at Chef du Pont

On June 4th I watched a film at the Amfretville community center on the events of 60 years ago. This small village was the epicenter of the scattered landings of the 508th. After the film I engaged several peolple in conversations about my trip and my dad. I shared one of his treasures that he had secreted away for decades...an original copy of the October 1945 Regimental anniversary magazine. Several of the people had never scene this before. They invited me to come the next day with them to the corremorative airdrop in nearby fields. I graciously accepted this invitation and was directed how to take back roads to the same community center the next day to avoid traffic and police barricades.
On June 5th, I drove from my lodging
Hotel Belaire Normandy

on the Contentin coast (on the coast facing the Jersey, Guernsey, Alderney and Sark islands)
Norman Coast toward Channel Isles

through the narrow hedgerow lined lanes.
Norman Back Roads

Along the entire backroad route farmhouse after farmhouse was flying American, British and French flags. There was no commercial or tourist value to these flags as no one would be going down these roads but french farmers...these were flags of respect and gratitude....there were even a few signs in English saying "thank you liberators". That morning drive helped banish some demons. I began to see my dad in a different light and a different time. Not the broken shell that I had grown up with.
At the community center, I met up with Phillipe who was to drive me to a good spot to view the airdrop of todays paratroopers. Phillipe was in full dress uniform of the French Marines. Little did I know the day before that I would be escorted by him through the police barricades to an area set up with a tent for many returning vets of the 507th Parachute Infantry Regiment. He had a hand written document which got us through all the gendarmerie...my french is elemental but I was surprised to see the note was titled "Laissez d'Affaires". We chatted as we slowly moved through the narrow lanes. Interesting that Phillipe had been the Military liaison at the French Embassy in Helsinki. It was a delightful little trip. The going was slow as multitudes of people were all over the streets heading for the observation points. I was amazed at entire families that were turning out and walking miles to get the site...while I rode in a Toyota pickup feeling guilty for my escorted ride. At last we arrived in the viewing area that was already occupied by vets of the 507th regiment and their families. Phillipe introduced me as a son of a 508th vet and I was warmly greeted. I was introduced to Jack Schlegel who was a 508th vet but did not know my dad. As fate would have it, he is also a New Yorker from the Hudson Valley not far from my home. He shared some amazing stories. Most of which I had read about on various websites. Jack was and still is quite a character. He relished in being interview by the French TV crew.
Jack Schlegel

It was interesting talking to several of the other vets and their families. They all made me feel very welcome. Then it was time for the airdrop which lasted all afternoon. In my rush not to be late for the occasion I had failed to put on sunscreen and forgot a hat, so looking skyward on a bright and sunny Normandy June day resulted in the worst sunburn since my childhood. I did not notice until it was too late.
As the jumpers filled the sky I tried to imagine the fear of a night jump where the sky was filled not with bright sun but with explosions and tracer bullets....sent with intentions to kill! Reading the first person accounts gives me a small understanding of that fear...but I know I cannot really appreciate how that fear is seared into a mind.
60th Anniversary Jump

Current 507th landings

Afterward, members of the current 507th who had just jumped march over to the tent area and joined the old vets for lunch and conversation.
507th Jumpers

I engaged the battalion commander in a small conversation about the history of the unit and some of his experiences. We had both been stationed at Ft. Campbell for a short duration but at different times. When I told him he seemed rather young to have such a command responsibility, he remarked about the youngsters whom he commanded. He said that he was amazed, "to be in charge of 18,19 and 20 year olds who are already, at their young age, veterans of the war in Iraq." It struck me like thunder that to these guys war is not a video game or the TV footage of the war from embedded reporters. I wondered what images have been seared into their minds. How long before the nightmares start. How are combat vets handled now that we know so much more about PTSD? Most of my dads comrades were also of this age. He was older, 31, and I wondered how this might have effected him differently.
Later in the day Phillipe and I reversed course and passed the crowds going home. I had learned that there would be ceremonies the next day at several spots and I decided that I would attend them while President Bush made his ceremonial appearance at Arromanches. Seems he likes this military stuff more now as a Commander in Chief than when he had the chance to really be engaged as a young man. I often wonder what he thinks of these young men who serve under him and how he knows when his time came to serve, he was a SHIRKER.
I then picked up my car and decided to go to Ste Mere Eglise. Surprisingly I was able to get right down there. The village was filled with people including lots of the uniformed paratroopers who had recently jumped. There were lots of older vets and many other young people. I took some photos of the church (see above). And I lit a candle in memory of my dad...just in case it would do any good...and also just to acknowledge and honor him. Walked around a bit and looked over a huge stage/television set that had been erected in the main square. Heard that it would be used by the most popular TV host for a show the next day...June 6th. Then I drove back to my hotel along the same back roads, filled with floods of emotions. It was a GOOD day!
June 6th I awoke with a bad sunburn. I turned on the TV to see if there might be any coverage of the ceremonies where I couldn't attend. Of course there were...both in French and English as the British networks were broadcast from the Channel isles just off the coast from my hotel. It became apparent that there was something missing from the French Broadcast...commercials. I learned that although it was a commercial network that they had decided to broad cast commercial free....and for 12 straight hours no less. The British Vets parading into the ceremonies were quite impressive in mathching navy blazers, gray flannel trousers and berets. And they could still march smartly. On the other had the Yanks were a motley crew who had forgotten how to march ...if they had ever learned. But it was impressive to see these guys remembering their fellow comrades. I turned off the TV when Bush spoke.
I made my way to the Chef du Pont ceremonies, arriving hours before anyone else. I must have mixed up the times....but it gave me a time to read the memorial stones, quietly view the Meredet river and think about the history of the place and of those who had fallen there.
Peaceful Merderet

Chef du Pont Memorial

I retrieved an interesting stone from the shore of the river to bring home as a keepsake. I sat under an empty tent and just absorbed the whole spirit of the place.
Soon vets began to arrive and an honor guard from the 507th.
OB Hill Ceremony Chef du Pont

Dignitaries motored in, the tent was set with cookies and fine wine. There were speechs and presentation from the Mayor of Chef Du Pont, the Mayor of Ste.Mere Eglise, the governor of the LaManche region and relatives of O.B. Hill who recently passed away.
Governor of La Manche, former mayor of Ste Mere Eglise

OB's story is also on the
web
. He loved the Norman people and chose to have his ashes interred at the Chef du Pont memorial. Tears and pride abounded that day at the little park set aside to remember a terrible time that also was a triumpth over evil.
The next ceremony was for Col. Louis Mendez, my Dad's Battalion Commander.
Ceremony for Colonel Mendez

The Ceremony was held in the Village of Pretot. Another place of ferocious battle and loss of life. It was also a ceremony for American paratrooper Alexander who was injured in his jump and hidden by the school master of Pretot as the village doctor was a Nazi collaborator. He was there to present a signed copy of his book to the village school library. He had spent his life as a school teacher in San Francisco.
Book presentation by Alexander

Met with members of the Mendez family who were very gracious and we had long discussions.
Son of Col. Mendez

I showed them some publications from 1945 that they had never seeen. Included was a story of a couple who were married in Frankfurt at the end of the war. The groom was a 508th paratrooper and the bride a girl he met in Belgium during the Battle of the Bulge. They told stories of Gaby coming to their house on many occasions while they were kids.
The celebration ended in a beautiful spread of wines and champagne, the village hall was filled with flowers and the village residents. Again it was a very moving experience to meet first hand with people who had sacrificed so much. And to see the gratitiude of the Norman people.
On June 7th I stopped at the American cemetary at Omaha Beach. The tv crews were gone, but there were many people remembering loved ones.
Omaha Memorial

I happened upon a group who were playing taps for a family member lost 60 years ago.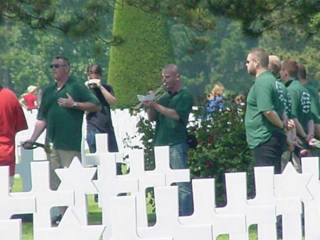 normamdy

It is a haunting experience to see row after row after row of white crosses.
Omaha Beach

Omaha Beach